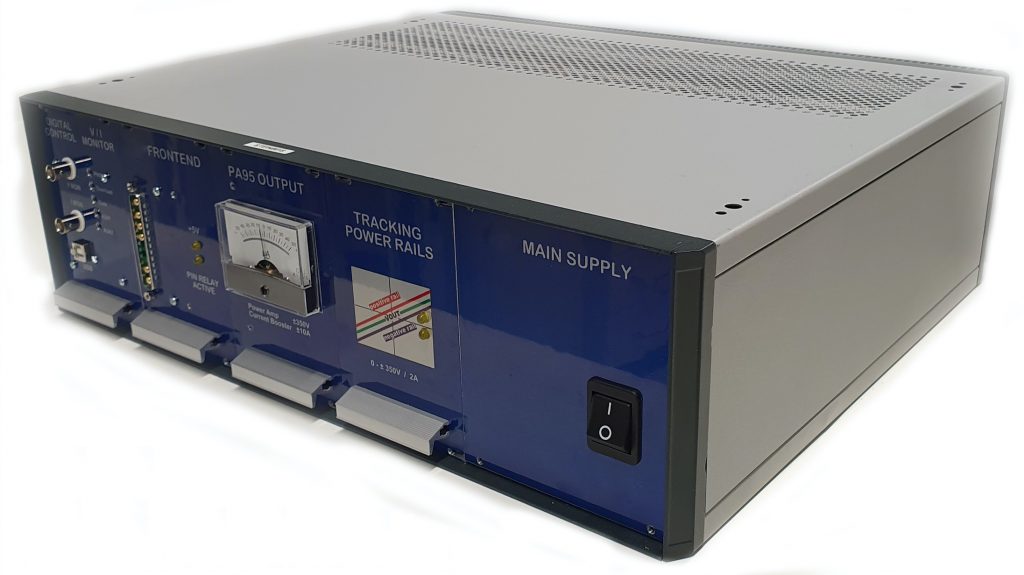 Features
Programmable Four-Quadrant Voltage and Current source and measure unit.
-320V to +320V Voltage Range.
-2A to +2A Continuous Current.
Capable of up to 10A pulsed current.
High B/W Measure unit at 10 MS/s.
Fully programmable.
Built-in Function generator.
Customizable clamping parameters.
Supports Serial, USB and LXI interfaces.
Fully modular design allowing for custom configuration with multiple options of output power, interfaces and software features according to customer needs.
Applications
Production floor tester: Rapid characterization of semiconductors with Pass/Fail option.
Standalone supply: Configurable as bench power supply for wide range of operations.
Tester power supply: Can be interfaced with major multipin/multisite semiconductor tests.
Fast FPGA based digital control loop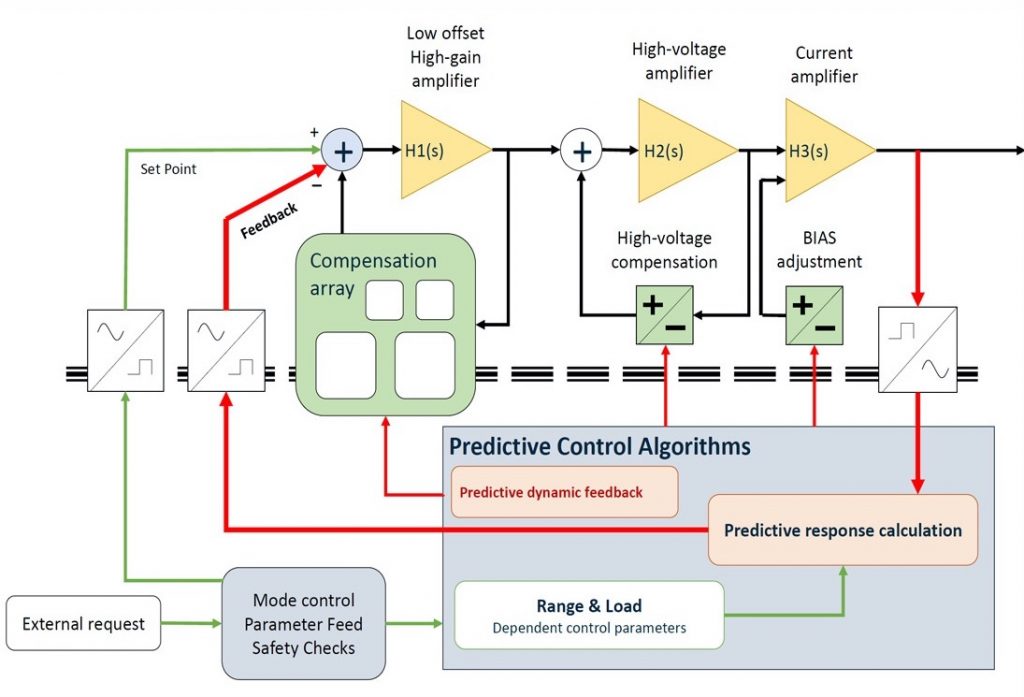 Advantages of digital control loop
Ultra fast DAC and ADC arrays for smooth output waveform control.
Predictive dynamic loop based on load
On-the-fly variation of feedback conditions
Fast and smooth settling times.
Optimizable output speed for overshoot prevention.
Complex array of compensation network for compatibility with many applications.
Specifications
Temperature range: 22.5°C ±2.5°C
Operating humidity: 20% to 60%
Warm-up time: 20 to 30 min
Calibration period: 6 months
Power supply: 230 Vac/50Hz
Power consumption: 130W (max 325W)
| Range | Resolution | Accuracy |
| --- | --- | --- |
| 100mV | 10μV | 0.05% |
| 1V | 100μV | 0.05% |
| 10V | 1mV | 0.05% |
| 100V | 10mV | 0.05% |
| 320V | 100mV | 0.2% |
| 10nA | 1pA | 1% |
| 1μA | 100pA | 0.1% |
| 1mA | 100nA | 0.05% |
| 100mA | 10μA | 0.1% |
| 10A | 1mA | 0.2% |